One of the complexities of the oil and gas industry is handling the accounting and communication between multiple land owners, especially for Exploration and Production companies. They have many complexities to manage around a high-risk business environment. Including, high investment costs, difficulties in correlating the scope of expenditures and the value of assets and reserves, managing the long-life cycle of cost-to-benefit, and return on investments. Managing the complexity of multiple working interests requires technology to better control the Joint Interest Billing functions and various stages of operations.
Many Energy companies don't realize that with Joint Venture Accounting Software that integrates with their ERP system, they can manage complex business transactions and ensure compliance, collaboration and accuracy with multiple business contacts. This will save energy companies a great deal of time, and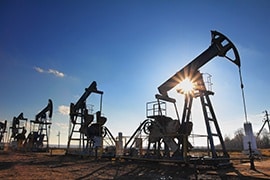 therefore money. You might be thinking, "well, how does this software accomplish that?". By integrating project management, budgets and costs with your corporate financials from initial drilling through to production, your company will more effectively invoice and pay partners, manage cost centers, control expenditures and drive efficient business processes.
Other benefits of a modern Joint Venture Accounting Software system include:                                                
Easily establish and enforce accounting processes based on your unique business policies
Drill down by property or cost center
Create and track owner communications simply and easily
Automatically store records in Microsoft Dynamics 365 for Finance & Operations
There are multiple Joint Venture Accounting Software systems out there, but we believe you'll gain the most benefit from EnergyCONNECT due to its vast functionality and ease-of-use. EnergyCONNECT Joint Venture Accounting Software handles all aspects of JI, DOI, AFE and improved automation to core applications such as Enterprise Asset Management, Procurement and land systems. The EnergyCONNECT solution integrates with Microsoft Dynamics 365 for Finance and Operations and allows you to create flexible, date-effective divisions of interest and support account-based exceptions for joint venture transactions.
Modern technology is continually expanding and providing many competitive advantages for Oil & Gas companies. Don't let 2020, or your competitors, pass you by without considering what benefits your company could experience by implementing EnergyCONNECT Joint Venture Accounting. If you have questions about the software, contact us. Our experts are always happy to answer any questions and give you unbiased advice.
Author: David Huether, VP of Sales
Other articles you might be interested in:
{% set pop_posts = blog_popular_posts('default', 3, 'erp') %} {% for pop_post in pop_posts %}
{% endfor %}