Succeeding at Sales & Operations Planning (S&OP) is hard for most manufacturers but doubly hard for equipment manufacturers.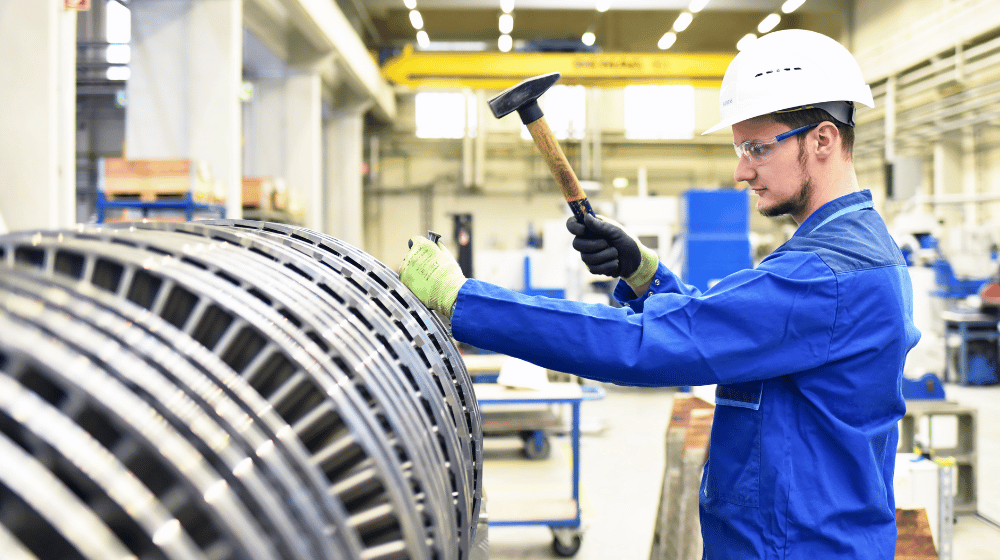 If you're an equipment manufacturer and you want to reap the benefits of matching production with demand, you must understand the unique challenges you face with S&OP—and how to overcome them.
6 S&OP Challenges Facing Equipment Manufacturers
For most organizations, finding success with S&OP is a daunting task. It's difficult to create a process that repeatedly meets the lofty expectations that business leaders often expect from it.
Before any organization can generate positive results from an S&OP process, it must master multiple capabilities to address the disciplines, level of collaboration, and quality of data involved. The organization must also be patient, because evolving an S&OP process to meet basic needs, and then continuously improving it to reach best-of-breed status, takes time.
For equipment manufacturing companies, this challenge is even harder. That's because their markets, products, and processes do not lend themselves to the normative approach found in companies that follow discrete manufacturing methods to produce their predesigned products.
To embed a successful S&OP process into their business, equipment manufacturers must overcome unique challenges. Here are six leading examples:
The high mix or low volume of non-repetitive manufacturing limits the ability to use historical sales transactions as a basis for creating demand forecasts at the finished-item level.

Primary products are manufactured using CTO/ETO/MTO methodologies, possibly supported by MTS/Lean at lower levels of assembly. Processes are loosely associated with discrete manufacturing but are non-repetitive at parent assembly levels.

Equipment manufacturing is often project-based. Production activities are planned and controlled as projects, not as individually produced products or families of products that share similarities in their construct.

Production processes are oriented around resource capabilities (such as metal forming machine centers), not around products. This results in complex flows of production operations as manufacturing activities move between disparate resource centers rather than a linear flow.

Goods being produced go through many iterations of design and re-engineering, even after production activities have commenced.

After-sales environments based on usage lifecycles span over multiple years or decades, requiring activities dedicated to installing and maintaining field equipment over a long period of time, versus consumer-type goods that have short usable lives and little to no in-field servicing requirements.
Demand Planning Tips for Equipment Manufacturers
As an equipment manufacturer, you don't have the luxury of a nice stream of historical sales transactions for predesigned and repeatedly built and sold products. But if you look elsewhere, you will find data that is useful.
Analyze past products. For instance, analyze your past equipment builds to meet the unique needs of a varied customer portfolio. You may discover that you can group the majority of those sales into a small number of categories that share common design and build attributes. Often, the 80/20 rule applies here – 80% of past sales fall within categories that represent just 20% of the product/project portfolio mix. If you can discern patterns of demand for just this 20% of past business activities, you have a good basis on which to model future demand.
Look beyond final products. Make sure your modeling goes beyond just the end equipment that you produced. What you also need is an understanding of the various subassemblies and components that went into the production of that final-state piece of equipment. You are likely to find many commonalities. Especially pertinent are the commonalities that pose a challenge to the supply side of the equation, such as:
Long-lead-time items that extend beyond the normal fulfillment commitments that must be made to compete for a customer's business

Critical goods with only one source of supply

Goods/processes that exhibit repeatable issues in the quality area
By developing planning constructs around these key materials and subassemblies, you greatly increase your accuracy in planning for these goods in advance of customer demand.
Look at your projects. The data you need may be hidden in plain sight within your projects themselves, especially since your projects consist of both active and booked work sitting in backlog in front of your organization. Depending on the business solutions you deploy within your organization, you may be able to forecast requirements for materials and assemblies within a project itself. This can be an invaluable source of future demand to be included in a demand plan.
Examine your quotes. Almost all equipment manufacturers use an estimating or quoting tool to bid on future business. Assuming that you use a ranking system that indicates your likelihood of winning each bid, you can use quotes that exceed a certain minimum probability of win ranking as a source of demand forecasting information.
Supply Planning Tips for Equipment Manufacturers
One of the greatest challenges for equipment manufacturers is planning for and controlling the capacity utilization of their key productive assets. Since the utilization of these assets is non-linear from either a process flow or a timing perspective, it's tough to project how a given mix of production activities will impact these resources. This attribute gives rise to another, the heroes of equipment build scheduling.
Heroes exist within many equipment manufacturing organizations who use a mixture of spreadsheets, manual scheduling whiteboards, and a deep understanding of the production processes and equipment within their company to come up with production plans that have a reasonable chance of succeeding. Add to this the ever-changing landscape of project needs, priorities, engineering designs, labor and material shortages, machine breakdowns and maintenance, and it's no wonder that these folks have earned their hero status.
Deploy planning and scheduling software. Technology offers a better approach. Planning and scheduling software, when configured with the extensive tribal knowledge in the possession of production planning and scheduling heroes, delivers capacity planning results of a similar or better quality in a fraction of the time. This enables real-time modeling of various demand scenarios being considered in the demand planning side of the S&OP process, so that you understand the impact any of those future states may have on the capacity utilization of critical assets.
Consider parts and people. Remember the services side of your operation – both spare parts and skilled labor. Many equipment manufacturers keep an overabundance of spare parts on hand just-in-case they are required. Doing so with skilled field service technician resources is not as easy. In both cases, the result is suboptimal performance – both from a customer service and a financial perspective.
But you can still anticipate future needs for these material and human resources. Combine your planning constructs in the form of spare parts BOMs and service resources utilization matrices predicated on the expected nature and timing of existing and planned future in-field at customer locations. Then factor in the types of activities most commonly required for your product families that your organization normally supports. Then join these to the demand forecasting information in your S&OP process.
Monitor your installed equipment. Conduct real-time monitoring of installed equipment in the field using Industrial Internet of Things devices. This alerts you to when materials or services may be required. It also gives you critical warnings that you use to ensure the right materials and people are in the right place at the right time, either to resolve a pending equipment breakdown or to intervene to prevent that breakdown from happening at all.
How to Create an S&OP Process That Fits Equipment Manufacturing
As an equipment manufacturer, capturing the benefits of S&OP is not easy. But it's not impossible, either. MCA Connect has years of experience in helping equipment manufacturers overcome these challenges. If your organization could use assistance in improving your existing S&OP processes, or if you'd like to start on the journey of deploying one, MCA Connect and its talented pool of equipment manufacturing, and technology experts are ready to assist.
Author: Jack Moran, Solutions Architect