From rapid changes in technology to ever-increasing consumer demands, every industry is trying to keep up with the pace of change and reinvent processes for a more sustainable future. When a manufacturing business successfully transforms itself, customers and employees will benefit from increased efficiency, agility of supply chain planning, and asset utilization. But how does a manufacturing company build a future-ready strategy to achieve those things?
The right technology for the job
We know, a technology implementation sounds daunting, but if you want future-ready manufacturing processes, then introducing Smart Manufacturing technology, like Dynamics 365, to your company is the right first step. But don't think you have to implement all the elements of Smart Manufacturing right away. We recommend you take on one project at time based on your priorities. Remember – slow and steady will get you to where you want to go.
Smart Manufacturing technology and how can it prepare your company for the future
Let's look at some of the elements that come with implementing Smart Manufacturing technology and you can determine which ones are a fit for your company's future strategy.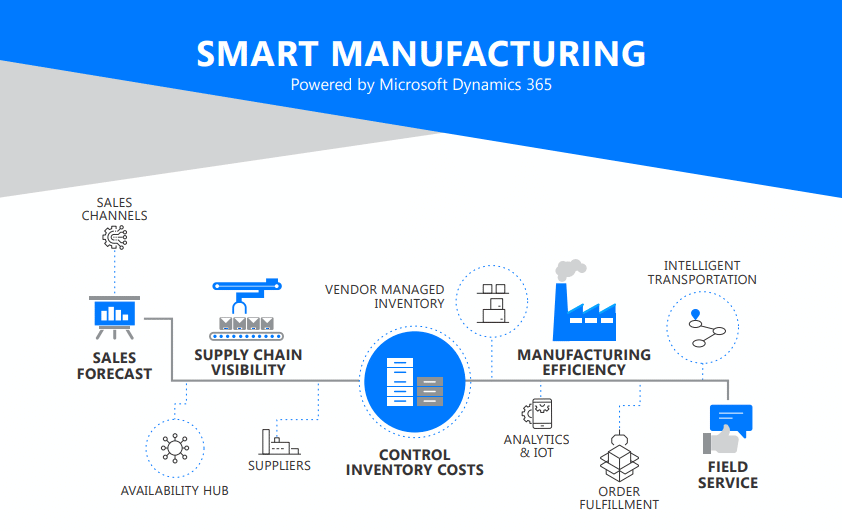 Sales Forecasting – Incorporating technology into your sales process will improve your sales forecasting and drive efficiency throughout the whole business. You'll get a better understanding of demand which will help with inventory management & associated costs. With accurate sales forecasting, you'll be confident you are building the right product, for the right customer, at the right time.
Supply Chain Visibility – With Smart Manufacturing technology, you'll improve supply chain visibility, which will lead to lower carrying costs and inventory costs. Your demand is telling you what to build, so you'll reach out to your suppliers to order the necessary parts. Supply Chain Visibility connects manufacturers to suppliers so you know what components they have on hand and can make the best decision on how best to produce your product.
Controlling Inventory Costs – This is all about being smart about what inventory you need to carry in order to manufacture efficiently which will save downtime and reduce costs. When it comes to Vendor Managed Inventory, you can push your inventory requirements back on suppliers and vendors. You may not need to build additional warehouse space for your inventory, rather, you can ask suppliers to hold it. With Smart Manufacturing technology, you can see what inventory they have, then you can request it be delivered when you need it.
Manufacturing Efficiency – This is a big one. With an inefficient shop floor, all the other processes will suffer. With solutions like Dynamics 365, you'll be able to stay smart about managing your manufacturing process. Using advanced analytics, IoT, and lean solutions, you can run your facility much more efficiently.
Intelligent Transportation – Once your product is manufactured you now must get it to its destination. Whether that be just down the street or across the world, you'll need to figure out the best way to get it from point A to point B. Intelligent Transportation factors in delivery deadlines, fuel costs, commodity costs and transportation method (Truck, Train, Boat, Plane).
Shipping inefficiency can quickly eat up profit, however, incorporating intelligent transportation technology, you'll be able to see all the route options and choose the best one. Think of intelligent transportation as part of all your processes. With better transportation you'll improve customer satisfaction, delivery times, and profitability.
Improve Customer Satisfaction – All of these elements will ultimately lead to improved customer satisfaction. You will manufacture products quicker and more efficiently because of quality control in all your processes. You'll have a good pulse on consumer demand and needs, which leads to accurate supply chain visibility and inventory requirements, which flows through an efficient shop floor, and you'll transport the right way – which makes everyone happy!
While all these elements sound exciting and will bring many benefits to your manufacturing company, we recommend you pick an entry point. What is your first priority when building your future-ready strategy? Start there and then our Business Transformation team can help create the rest of the strategy and help you plan for all the elements. Contact us today to get transformation and future-ready strategy started!
Author: Brad Smith, Director of IoT Analytics
Other articles you might be interested in:
{% set pop_posts = blog_popular_posts('default', 3, 'manufacturing') %} {% for pop_post in pop_posts %}
{% endfor %}