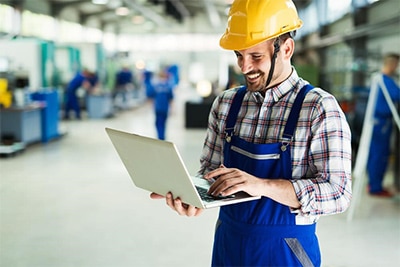 There's an adage that says,

"You can have something cheap, fast or good.
Pick two of the three. You can't have it all."

The truth is that quality, speed and price are all important to customers. This old saying makes it seem like it's impossible to deliver on all three points.
Fast and cheap is going to be poor quality.
Super cheap and high quality likely doesn't exist, but at the very least getting your desired result will not be fast.
Fast and high quality is going to be expensive.
These either-or scenarios are flawed thinking. Rather than thinking about the impossibility of delivering all three, consider how you can balance them to achieve your customer's goals. Somewhere in the middle, there's a sweet spot that delivers just the right amount of quality, speed and price.
As a field service organization, you can use this triad to build your service offerings to align with customer needs.
Field Service Examples
Oil & Gas – Proactive Monitoring
In the oil and gas industry, speed and cost are the most vital, especially when oil prices are down. We've seen our oil and gas clients steadily invest more in proactive monitoring. By attaching inexpensive IoT devices to oilfield equipment, they're able to remotely gather data about heat, volume and other telemetry data. This data is relayed to the cloud and fed to an analytics solution that scans for trends and anomalies.
Analytics information can be used to prevent downtime, but also to optimize water / frac usage to maximize production output. Once pulled into field service software, the right team can be dispatched to the site for repairs before a problem even occurs. This level of vigilance protects workers, the environment and equipment, and is still within their price range.
Manufacturing – Connected Field Service
A trend in manufacturing is to move to Connected Field Service. The manufacturer, distributor or manufacturing service provider promises to maintain equipment uptime with a service level agreement (SLA). The customer pays an annual / recurring fee for all covered services. Field service personnel regularly fix and maintain equipment at whatever intervals are needed, all at the one fixed price. To make this arrangement profitable, the manufacturing field service companies charge a premium price – but it's worth it to the customer because downtime is so expensive.
Service Companies – Electronic Mobility
For professional service companies, like painters (for example), getting to the job site quickly may not be as much of a priority and their customers may be more price sensitive. But customers still expect quality work and may value a premium experience. Field service software can keep operational costs low, by creating efficient job schedules, routing, automating communications and capturing electronic signatures. The Foundation is Field Service Software Using a field service management solution for a mobile workforce has been proven to increase the rate of daily completed jobs by 47% and a 77% reduction in employee overtime. By offering the right blend of quality, speed and price, your field service operations can keep customers happy, while increasing profitability.
Is it time for your organization to optimize field service operations and empower your field service workers? Contact one of our field service experts today to get started.
Author: Travis Pullen, Director of Field Service
Other articles you might be interested in:
{% set pop_posts = blog_popular_posts('default', 3, 'field-service') %} {% for pop_post in pop_posts %}
{% endfor %}