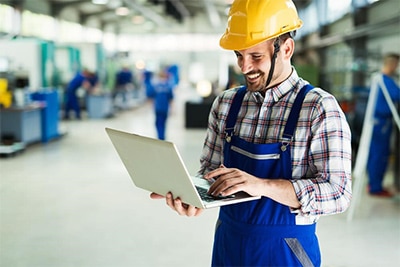 Field service automation software used to be a 'nice to have' option for manufacturing companies and professional service providers. Field service workers routinely showed up at job sites with a clipboard of paperwork and the inventory they needed to complete the task at hand. Once they were done, they had the project paperwork signed and moved to the next job.
While many field service-based companies today still run their business that way, those companies are at a distinct disadvantage.
If that scenario describes your company, Field Service Automation Software is the solution you're missing!
Why You Need Field Service Software
Faster payment from customers – Electronic routing of signed paperwork can cut DSO invoices by 7 days or more.
Increased first-time fixes – Ensuring your field service workers have the right parts, but also the equipment history and access to maintenance guides, increases the opportunities for you to finish the job the first time, improving customer satisfaction and increasing worker efficiency.
Improved operational efficiency – From optimizing dispatch to increasing service call capacity, companies can improve overall efficiency by 10-20% – at least!
Reduced costs – Leverage scheduling and routing to ensure the most applicable field technician is deployed for the job. This leads to reduced length of site visits and number of revisits.
More revenue, new revenue streams – As more OEMs push service back to their suppliers, and service companies work to create and manage profitable Service Level Agreements (SLAs), Field Service Automation software, like Microsoft Dynamics 365 for Field Service, provides an efficient way to know exactly what's included and excluded in your company's warranties and SLAs. Stop your field service teams from giving away services because they're unclear what the customer is entitled to. Additionally, field service technicians have more visibility to customers than anyone else within the company which allows them to identify opportunities for new revenue streams such as obsolete items and lack of spare parts.
Happier customers – Your field service personnel may be the only company representative your customers ever meet. Help your field service workers make a great first impression by keeping in constant communication with customers about project progress, and when your staff is expected to arrive. Creating happier customers increases your wallet share and market share.
Ready to automate your field service? Dynamics 365 for Field Service will provide your organization with the benefits listed above as well as transform your business. By innovating your product offerings, automating your processes and leveraging machine learning & predictive analytics, you will optimize your resources, engage your customers, and make your technicians more efficient. Contact us if you'd like to learn more about how Dynamics 365 can be implemented into your organization. One of our Field Service experts would be happy to answer your questions and discuss your company's needs.
Author: Travis Pullen, Business Development for Customer Engagement
Other articles you might be interested in:
{% set pop_posts = blog_popular_posts('default', 3, 'field-service') %} {% for pop_post in pop_posts %}
{% endfor %}