Does your company get caught up in optimizing operational efficiency, increasing profitability, and keeping up with the competition? It's easy to get caught up in the number and work toward making small improvements. That's what us business people do.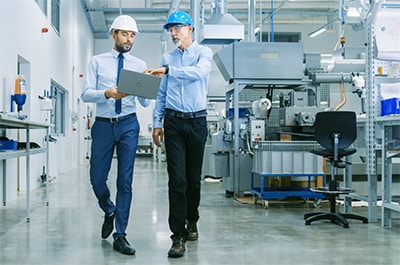 What if you took a fresh approach to field service?
Ask yourself these three questions:
How different would your business look if you started from scratch today?
Where do you have opportunities for revolution instead of evolution?
Which fundamental changes would have the most impact?
Creating a business breakthrough
Big business breakthroughs don't come from slight improvements of what exists today. Industry disruption comes from thinking differently.
Starbucks popularizing the $4 cup of coffee
Uber turning ride sharing and traditional Taxi business upside down
Airbnb creating a resource-sharing economy and disrupting traditional Hotel business
Block Chain
Banks immediately blocking suspected fraudulent activity
How can field service companies innovate?
1. Make innovation a priority.
Many organizations think their company is innovative, but their corporate culture tends to squash new ideas. Employees feel compelled to follow policy, rather than speak up to offer new ideas.
In manufacturing organizations, research and development (R&D) teams are considered essential. Why should field service organizations / departments be any different? Not just essential to provide the expert service your customers demand, but essential to the bottom line, as a strong revenue source rather than a cost center.
Create a cross-functional Service Innovation Team, whose role is to find and foster innovative service initiatives. This project requires a passionate executive sponsor who makes innovation a priority. You may also want to bring in outside business transformation consultants who can add structure and an outside voice to your innovation initiative. Obviously, including the front-line service technicians is key to successful innovation.
2. Focus on outcomes.
Start with the end in mind. Which results are most important to you?
Increasing customer satisfaction
Lowering service costs
Increase first time fix rates
Increase work/day performance
Providing better/different service options
Providing tighter service windows and SLA adherence
Attracting more or different customers
Being more transparent
Automating low-value activities
Sometimes, choosing which service areas to focus on requires making tough choices. It's difficult to provide both a highly-customized service experience and be the lowest-cost provider; margins are just too thin. Your Service Innovation Team exists to provide guidance on how to reconcile competing priorities to stay aligned with the company's mission.
3. Focus on making your field technicians look good.
The field service technician may be the only person in your company that the customer ever meets. Think about how your company can create a strong first impression – and a lasting good impression – by empowering your field service technicians.
4. Understand what customers value.
Think beyond just the customers you have today to include the customers you'd like to attract in the future. Do they want more self-service options? Better communication? Customers are willing to pay more for a better customer service experience. How will you achieve that?
5. Explore new technologies.
Internet of Things (IoT), machine learning and cloud computing have created opportunities for predictive, proactive service models. Connected field service solutions, like Dynamics 365 for Field Service, allow you to fix routine equipment problems without a technician even being involved.
Final Thoughts
While return on investment (ROI) is an important concept for any business initiative, people resist change. When you're embracing innovation, give your ideas enough time to percolate. Immediate measurements may steer you off course, but over time, successful innovation initiatives can provide metrics that would be unachievable if you only made small incremental improvements. Contact us to differentiate your company.
Author: Travis Pullen, Engagement Manager
Other articles you might be interested in:
{% set pop_posts = blog_popular_posts('default', 3, 'field-service') %} {% for pop_post in pop_posts %}
{% endfor %}