If field service is an integral part of your day-to-day business and optimizing your field service operations is a main responsibility, then connected field service should be the next step for your field service operations. But what is connected field service or field service automation and how does it differ from field service software?
What is Connected Field Service?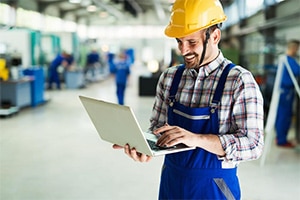 Connected field service is the idea of adding connected devices, powered by IoT (Internet of Things) and the Cloud to your existing field service operations. Field Service Automationsoftware like Microsoft Dynamics 365 for Field Service provides the ability to send information directly to service providers about equipment condition and the potential need for repair. This idea of being connected, fundamentally unifies the service and manufacturing industry. With proactive maintenance a possibility, the need for customer, client, or failed equipment initiation has been discarded. Whereas, with previous field service processes, this element was central to the service relationship.
How does Connected Field Service differ from Field Service?
Field service organizations and manufacturing companies have conventionally followed the process of installation, check-up maintenance, and break-fix or repair appointments. Since there are no sensors and this process is reactive, the customer is forced to pick up the phone when something breaks to log the ticket. With Connected Field Service, these issues are mitigated, and you've moved to proactive service by having connected/IoT devices. Having connected/IoT devices significantly improves organization's ability to respond quicker. In some cases, they're able to resolve the issue before the customer even knows about it by providing remote troubleshooting capabilities (send device commands to repair/reset). If the system can repair the equipment remotely, without ever sending a technician, you can save a lot of time and money.
For Example:
Let's say a heating unit is installed at a manufacturing plant or at a client site.
With Basic Field Service: If the heating unit starts running too hot, no alerts will notify the client or manufacturing plant manager and the equipment will most likely break. The client or plant-manager will need to then call and schedule an appointment with a technician to come investigate and repair. Time involves human initiation and an important amount of time.
With Connected Field Service: If the heating unit starts running too hot, an alert to the field service management system is sent, and a technician is automatically scheduled and dispatched to investigate without any human intervention. This technician, in theory, is dispatched before the client or manager even knows there's a problem. Saving time, money and avoiding any downtime.
Benefits of Connected Field Service
Connected field service, at any level, can provide many advantages. Including:
Reduce downtime with proactive alerts from connected devices
Accelerate repair times by ensuring service technicians are fully equipped to deliver first-time fix
Provide remote troubleshooting capabilities (send device commands to repair/reset)
Lower maintenance costs by dispatching the right technician only when needed
Gain enhanced visibility into products, services, company, performance, and customer satisfaction
Address issues faster by monitoring devices remotely and keeping customers and managers in the loop
Maximize upselling and cross-selling opportunities with deeper insights into customer usage and trends
Get Started
Connected field service combines the Cloud and IoT technology to empower field service and manufacturing organizations. This model redefines how companies think about service. Connected field service is simple to use, can save you money and can be implemented in phases as your business becomes more comfortable using the software. Contact us to speak with a field service expert and let's talk about how your field service operation can be transformed.
Author: Travis Pullen, Field Service Specialist
Other articles you might be interested in:
{% set pop_posts = blog_popular_posts('default', 3, 'manufacturing') %} {% for pop_post in pop_posts %}
{% endfor %}